You are here
News & Events
Top Stories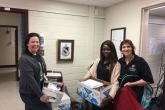 March 6th, 2017
As a part of the 2017 charitable initiative drives, the University Honors Program in conjunction with the Honors Board...
Read More ➝
February 6th, 2017
Students gathered in the "U" on Saturday January 28, 2017 to meet with prospective Honors students from high school...
Read More ➝
November 9th, 2016
Each year, the University of Louisiana at Lafayette works with a local food bank during UL Lafayette Homecoming to...
Read More ➝
View All News
Upcoming Events
UL Lafayette Honors Program 3rd Floor Fundraiser
Go Here to See Pictures from the 2016 Honors Soiree d'Excellence
In 2014 the Honors Program presented a night of enchantment and pride, the Honors Soiree' d'Excellence. The Honors Program was able to raise nearly $5,000 with the help and proceeds of many students, professors, and community leaders for the expansion of the 3rd Floor of Judice-Rickels Hall. In 2016, the Honors Program supplied another opportunity for individuals, family members, alumni, and friends of the program to gather and dine in honor of the program and in order to raise funds for the 3rd floor expansion. Provided is a brief video created by Honors Students explaining our continued need.
If you would like to help us continue to increase the expansion of our 3rd floor, please do not hesitate to donate.