Honors Learning: Time-filled Efforts Creates Priceless Educational Rewards
Thu, 05/12/2016 - 9:06am
Students in the Honors Program have the opportunity to achieve deeper knowledge in a class through the contract system or independent study where they explore an idea or question they have beyond what the class usually entails. Contracts and independent studies allow students to use critical thinking skills, amass new skills, and provide additional hands-on experience outside of the usual classroom environment.

This Spring, two Honors students, Garett Robichaux (left) and William Wartelle (right), knew they wanted to create a clock that worked with gears and counted second, minutes, hours, days and years. What they did not know was that their Honors Independent Study this semester they would take would place them on a difficult, and ultimately rewarding journey towards creating a one-of-a-kind gear train that tells time. Their finished work was simply named "The Gear Clock," but its actual creation is much more impressive.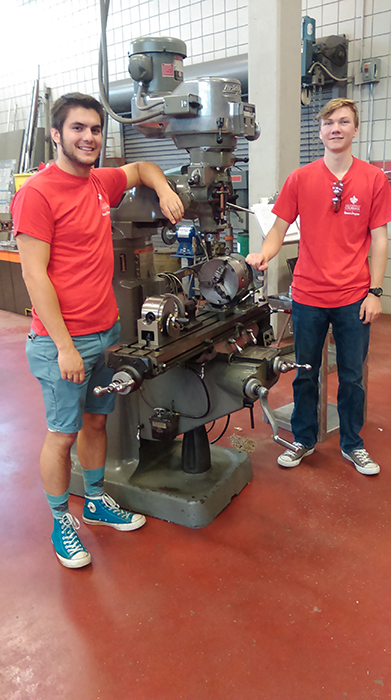 Both students are ITEC majors who wanted to build better skills and work on something that would both challenge them and provide them problem solving abilities to apply later in the industry. They got their wish.  The project required them to use solid works, Auto Cad, Excel, master cam, and the machinery in both of the ITEC labs, while using trial and error to finish the project.

The idea came to Garett during the Fall of 2015 when he took a contract to his ITEC 344 Manual Machining course with Professor Jeff Guidry. In that course he had tried to create a small version of a larger clock made two years earlier, but Garett's scaled down version actually required more advanced skills due to the size and the necessity to create perfectly concentric metal parts that would align the gear teeth on each cog to another. Thus the problem came to being. Garett said it was a question of "how do we cut the gears accurately enough – more accurate than normal machines provide?" The concentricity was extremely important on a machine this small. So to get the inside shafts and cogs perfectly concentric would take some problem solving. Garett and William decided to take an Honors 415 independent study together to solve the problem.

Over the semester and between classes, sometimes up to 4 hours at a time they poured over 100 hours research, experimentation and labor into the gear clock.  First, they created schematics on Auto Cad and detailed the needed mathematical ratios to provide their gears with the appropriate amount of teeth. They knew the gears would need to touch each other only at the bottom , and the top wheels (the clock faces) had to be arranged so they would not interfere with each other on the top (see side view). They then fashioned a full mockup of the machine and planned together how to mill the shafts and attach it to the glass so that it was both tight and accurate.

A breakthrough came from discovering they would need to cut the clock face blanks larger than the finished diameter. Next they created a hand made machine (a mandrel with a lathe dog) on which to mount their metal blanks, and then cut it the correct size on the lathe. After this, they then put the gears on the mill with an indexing head and milled the gears (to make them work to count out seconds, minutes, hours, months, and years.) By cutting them on a mandrel that had been made "true" they knew that shafts and gears milled would also be made true. In this way, each gear and its mount would be concentric within each hole.

To create the holes in the glass face plates and align them to the rotors, they then utilized a CNC machine (Computer Numeric Control machine) to align and drill each hole to the correct concentric shape and accurate position. The metals used for the gears and gear shafts consisted of aluminum, brass, and steel. The face plates with the clock faces are made of Lexan and were digitally designed by the students but printed by Advanced Graphics Engraving. In the end, both Garett and William expressed that they have learned a lot more about the machine industry and have a much greater appreciation for the work that goes into detailed clock-making and machine crafting.
Written By: Dr. Julia Frederick, Honors Director
Pictures of machine workshop: Garett Robichaux and William Wartelle